November 12th, 2011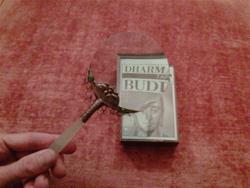 FBA Volunteers In Search of Dharma
This summer, Mary Salome and a group of volunteers from the San Francisco Buddhist Center started up a DIY fundraiser with a dual purpose: raising funds is one, the other is to make more talks from the FBA archives available online.
As an avid user of Free Buddhist Audio Mary once inquired as to why there weren't more talks by women available online. She expressed an interest in wanting to help with this, and a project was born. We selected a handful of cassette tapes and MiniDiscs from our archive and sent them along to Mary.
She shared with us, "Originally we thought we would not be able to restore the audio to broadcast quality and so wanted to provide transcripts alongside the audio.  I knew that it would not be possible for me to do this all on my own so I saw it as an opportunity to engage with other people around the work."
Mary enthusiastically organized the tapes and put a call out for more volunteers from the San Francisco Buddhist Center sangha, naming the project: "Dharma Tape History Detectives."
"The process itself has been meaningful as a way to make what could be very solitary work into community work. Just speaking for myself, I find it inspiring that people are spending time writing out the words to a talk with a very dedicated and committed practice of mindfulness"
***
Check out the list of talks they are preparing:
Six Part Series on the Five Buddha Mandala, given on a women's summer retreat, August 1985 (location as yet unknown – may be revealed on the tapes)
Transformation: Creating the Mandala of the Five Buddhas, Vidyasri
Akshobya, Vimala
Amitabha: The Buddha of Infinite Light, Padmasuri
Amogasiddhi: The Lord of the Dance, Sridevi
Ratnasambhava, Parami
Vairocana: The Illuminator, Anoma
The Four Right Efforts – four talks by Sridevi, Vimala, Sanghadevi and Ashokasri (on two cassettes)
Buddhist Revival in India, Padmasuri
Coursing Through the Worldly Winds, Dayanandi 1999
On Atisha: A Life in the Service of Compassion, Dayanandi 1999
A Future in the Dharma: Enjoying Meditation, Dayanandi 1999
Order Puja, Led by Bhante Sangharakshita, Sangharakshita 1983
Open Up The Thatched, Dayanandi
Standing Steady as a Mountain, Mahamati
Chapters: Principles, Practice and Potential, Ratnadharani 2007
One Great Glorious Mistake, Vajradharshini 2005
In Harmony with Friends and Brethren, Srivati 2002
***
You can make a donation to the Dharma Tape History Detectives fundraiser on First Giving or Just Giving. If you see a talk in our archive list that you'd like to sponsor, email Mary@freebuddhistaudio.com when you make your donation. Each audio recording undergoes a process of digitizing, transcribing, & copy editing that will take about ten hours per talk. They suggest a donation of $50 (that's $5 an hour — quite a bargain!) but any amount will start the process. You're also welcome to sponsor the general effort rather than a specific talk.
The Free Buddhist Audio Team would like to thank the San Francisco Buddhist Center Volunteer Detectives for taking on this project. We are looking forward to discovering and sharing what's on they discover and to increasing the number of talks in our archive by women. Many Sadhus to all of you!